Why are Indian companies in trouble overseas?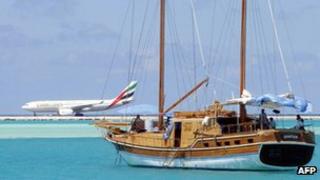 India's big business groups have been experiencing mixed fortunes in their overseas forays in recent years.
The good news is that many of them have turned multinationals after buying global companies or bagging lucrative contracts abroad.
The bad news is that some of these operations have faltered, and it has affected their global image. Consider this:
This month authorities in Maldives cancelled a $500m (£312m) contract with Indian firm GMR to manage Male airport. The government said the deal faced "legal, technical and economic issues." GMR said the decision to take "possession and control of the Ibrahim Nassir International Airport was "irrational" and "unlawful".
Steel firm Jindal Steel and Power Limited (JSPL) exited from its mining operations in Bolivia in July after a fight with the government. The government said that although JSPL promised to invest $2.1bn (£1.3bn) to develop the iron mines in El Mutun, the money pumped into the project was less than $100m (£61m), five years after an agreement was inked between the two parties in 2007.
After the Perth-based Burrup Fertilizers, partly owned by Pankaj Oswal, went bankrupt, the receivers, PPB Advisory, alleged that the Indian-origin businessman had siphoned off $210m (£130m) from the company. The receivers said the money was channelled to Mr Oswal's private firms, some of which were registered in Singapore, through inflated invoices and direct cash transfers. Mr Oswal claimed he had the right to take the money out of Australia as he had personally guaranteed an increase in costs during the construction of the company's plant.
Indian multinational ArcelorMittal - which employs some 20,000 people across France - announced in October that it intended to shut down the Florange plant's already inactive furnaces, saying they were uncompetitive in such difficult trading times. The move provoked an angry reaction from the French government, which accused ArcelorMittal of breaking a 2006 commitment to keep the blast furnaces running - a claim denied by the steel giant - and criticised the firm for refusing to sell off the site as a whole.
What is going wrong with Indian businesses abroad?
Blunder
Why are they unable to manage their international deals and stakeholders' agreements in other countries? Why are some of them - like GMR - being accused of buying influence in the countries where they have set up businesses? Or is it an inability to comprehend local laws?
Take the Jindal Steel imbroglio.
A press statement issued by JSPL in June stated that it decided to terminate its contract in Bolivia because the government committed only a fourth of the original 10 million cubic metres per day of natural gas for the mining project "due to non-availability of gas in the country".
While this assertion may be true, critics believe the Indian firm had blundered on two counts.
The first was that it had not realised the true potential of gas reserves in Bolivia and wrongly assumed that the government would be able to supply the agreed gas per day.
Second, a separate agreement to supply gas between the two parties was to be signed within 180 days of the mining deal, way back in 2007. However, JSPL failed to sign the contract for five years.
Similarly, in the case of GMR's airport project in Maldives, the company implicitly believed in a contractual clause that allowed it to impose an airport development charge (ADC) of $25 (£15.48) on every passenger departing from the island country from 1 January 2012.
The company got a shock when a Maldives court said that the ADC was illegal, unless it was cleared by a majority in the country's parliament.
It was this contentious charge - Maldives rejected it and GMR said the project would become unviable without it - that forced Maldives to ask GMR to hand the airport back.
Indian businessmen are usually adept at managing the political environment in their home country. Even when there are regime changes at the centre or state levels, they are able to protect their investments.
But most forget that this confidence may not work in other countries, where they can be potentially seen as "foreign villains" and local politicians can fan public sentiments against them.
Thus, many Indians who have invested abroad are unable to act swiftly and enter into meaningful discussions when new governments come to power in other countries.
Many become over-confident that the local officials would not act against their projects, which entail hefty foreign investments in those nations.
GMR became a victim of this mindset as it initially failed to grasp the implications of the regime change in Maldives in February 2012.
Later, it refused to budge from the ADC issue despite indications that the new government would not be able to justify it to the locals, specially in the light of fresh elections in 2013.
GMR should take a lesson from ArcelorMittal chief LN Mittal who, when faced with the prospect of the nationalisation of two blast furnaces owned by his company in France, chalked out a deal to retain all employees with the new socialist regime there.
Clearly, Indian business groups should examine local environment, politics and their future prospects more clearly before rushing in to seize opportunities abroad.