A certificate for holiness in India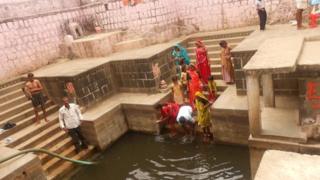 The Kumbh Mela festival may have been attracting millions this year - but at any given time India is being criss-crossed by hundreds of thousands of Hindu pilgrims looking for an encounter with divinity.
At certain times of the year I too am one of those pilgrims and in my travels I have observed how temples have adapted to fit the changing spiritual demands of India's public.
New technologies have begun catching up with India's holiest shrines. The biggest have developed sophisticated websites and you can even book darshan (a blessing) online.
Some offer e-darshans, where people can download the blessing.
But there is one remote and unique temple - a virtually undiscovered spiritual centre in the striking border wilderness between the states of Madhya Pradesh and Rajasthan - where you can get a written certificate for holiness.
Gautameshwar is a pilgrim centre where you can submerge yourself in holy waters, wash away your sins and get a certificate to prove you are cleansed.
All Hindus believe that a dip in holy waters washes away sin and many from across the country travel to pilgrim towns like Haridwar and Pushkar to take the holy dip.
But this is not simply about piety. Here it is also about holding together the fabric of local tribal communities.
People ostracised in their own villages come here to take a dip and then they can take back the certificate to prove themselves free of sin. It is possible to get a certificate in other places to prove you have partaken in certain prayers or taken a holy dip - but this appears to be quite an unusual kind of document.
Lush district
As one travels along the snaking road that leads to the temple, shopkeepers outside approach beseeching visitors to buy offerings like coconuts and sweets. When I was there, people were lining up to offer prayers.
It is a "centuries old tradition" and thousands of devotees come to offer prayers and get rid of their sins, says officiating priest Jagdish Sharma. Since 1947 six priests who serve at the temple have kept records of all the certificates issued.
This centre - dedicated to Lord Shiva - is especially popular with the tribal population in this lush district close to the Aravali mountain range and the picturesque Malwa Plateau - it has been described as "the Haridwar for tribals".
The site has a water tank called the Mandakini Kund, where people take a bath to purify their body and soul.
The legend here goes that a sage named Gautam was blamed for the death of an animal and cursed as a result of that.
"Gautam came here and prayed to the gods. So the River Ganges appeared here in Mandakini's form - a tributary of Ganga. He took a holy bath and found he was free from the curse. Ever since then people have been coming here to wash away their sins," Jagdish Sharma said when relating the rest of the story.
"When we do our agricultural work, intentionally or unintentionally we kill insects, birds and squirrels which is a sin. So we do penance here," farmer Gajendra Singh says as he plunges into the water.
Mr Singh came from a village in neighbouring Madhya Pradesh and told me he used to visit every year.
"It is our duty to offer prayer here and wash our sin." He said that after taking the waters, he felt a deep sense of relaxation.
'Sin' cleansed
It may seem like a peculiarity for the observer who would associate such an experience with the transcendental but for the people in this region, the certificate is of great importance - almost like a character reference.
Some communities want people to show proof they have been cleansed of any sin, like killing a cow. "So this certificate serves that purpose," priest Jagdish Sharma told me.
So I asked the head priest if I'd get a certificate if I took the waters too. He agreed and charged me 15 rupees for issuing the certificate.
I made a half-hearted attempt at a bath - roaming between the soul of a pilgrim and the mind of a journalist. But it was amazing to watch the scene while being part of the ritual. It will stay with me even though there is little need for me prove anything with it.
Talking with the priest Jagdish Sharma, it became clear that the need for a certificate was about issuing provable moral legitimacy to people's lives.
"Farmers and tribal people [have] come here for centuries," Mr Sharma said.
He said that if one of these people had committed a "sin", people from their local community would ask them to go to Gautameshwar and wash away the sin but also bring some proof that they actually made the visit.
He said that while some people do attend the temple from sheer faith, many come to wash away petty things. Some would simply be ostracised by their community if they did not bring back a certificate to show they had come.
Indeed the certificate also includes an address to community chiefs and village elders that the recipient of this "holiness" has indeed been freed from his sins so he can once again be embraced by the community.
From disputes over who gets to fix up ancient temples to holy centres dedicated to rats, where the many thousands of rats swarming the holy site are seen as an integral part of the mother goddess, Indians are still hungry for the sacred - but modern life is catching up.
Many wonder how long the unique legitimacy of a dip at the Gautameshwar holy centre will last and how long the priests will continue issuing the certificates.