Indian Boxing Federation suspended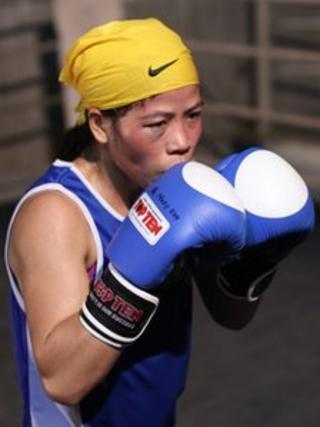 Amateur boxing's international body has suspended the Indian Amateur Boxing Federation (IABF) after reports of "manipulation" of the IABF elections.
The order comes days after the Indian Olympic Association (IOA) was suspended for elections in which officials accused of corruption were appointed.
Abhay Singh Chautala, chairman of the boxing federation, was elected the new IOA president.
An Indian boxing official said that the election was "transparent".
India won six medals at London 2012, including one for boxing.
The world body, AIBA, said in a press statement that "further to the International Olympic Committee's (IOC's) suspension imposed on the IOA, the AIBA has decided today [6 December 2012] to provisionally suspend the Indian Amateur Boxing Federation (IABF)".
It said the suspension was also due to the fact that AIBA had learned about "possible manipulation" of the recent IABF election.
"AIBA will now investigate this election and specially a potential political link between IOA president, as former chairman of the IABF, and the IABF election," the statement added.
Mr Chautala's brother-in-law Abhishek Matoria, the new IABF president, said amateur boxing's international body had been informed of the election process in detail.
"Those who got elected were unanimous choices and just because there was unanimity, the AIBA cannot allege manipulation," Press Trust of India quoted Mr Matoria as saying.
After the International Olympic Committee suspended the IOA on Tuesday and declared its elections void, the IOA still went ahead with its controversial elections.
It appointed Mr Chautala as president and Lalit Bhanot as secretary-general in the poll held late on Wednesday.
Lalit Bhanot spent 11 months in custody last year on corruption charges linked to the event before he was released on bail.
Abhay Singh Chautala, the IOA's new president, has close links to former incumbent Suresh Kalmadi, who is also on bail over similar charges.
On Friday, India's sports ministry also suspended the IABF, cutting off the sport's government funding.
Minister of Youth Affairs and Sports Jitendra Singh told a press conference that the "decision has been taken as the election of the IABF held on 23 September 2012 was in violation of the procedure laid down in the Sports Code".
Mr Singh said the government had also de-recognised the Archery Association of India (AAI) "with immediate effect".
"The Archery Association has violated the age and tenure restrictions prescribed in the Sports Code. The president-elect of the Archery Association of India has served for more than three consecutive terms in the past and is also above the age of 70 years," he said.
The Indian government's attempt to act against erring sports associations follows the IOC ban on IOA which prevents athletes competing for India at future Olympics.
There has been outrage in India, with some calling it an "Olympian shame".