Maldives to 'take over' Male airport from India's GMR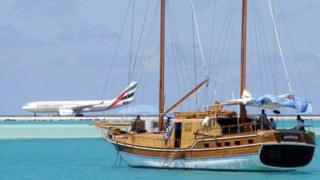 The Maldives government is set to take over the running of the country's main airport in Male from Indian company GMR, a presidential spokesman says.
Imad Masood told the AFP news agency that the government "will start running the airport from Friday night".
On Thursday, Singapore's Supreme Court ruled in favour of the government's move to cancel GMR's contract.
GMR and Malaysia Airports Holdings Berhad won a joint contract in 2010 to operate the airport for 25 years.
The Maldives had said the deal faced "legal, technical and economic issues".
A GMR spokesman said on Thursday that they were "evaluating" the ruling by Singapore's Supreme Court.
It had previously called the decision to cancel the $500m (£312m) contract "irrational" and "unlawful".
'Seamless'
"There is no turning back, we will start running the airport from Friday night," President Mohamed Waheed's spokesman Imad Masood said.
"We will retain all staff. Even the Indian staff have been told that they can remain if they want to and have the same salary," he said.
Mohamed Ibrahim, managing director of the Maldivian Airport Company, said the takeover of the airport from the Indian firm would be "seamless".
"We have already spoken to international airlines and assured them that there will be no disruptions," he told AFP.
Meanwhile India has also voiced its concern, saying the move would send a "very negative signal" to foreign investors.
GMR has a 77% stake in the operation while Malaysia Airports Holdings Berhad owns the remaining 23%.