India's upper house debates foreign retail reforms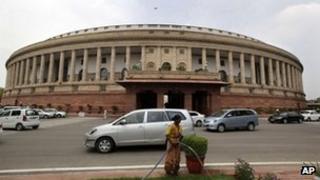 The upper house of India's parliament is debating the government's plans to open the retail sector to foreign competition ahead of a vote on Friday.
On Wednesday, the Congress-led government won a key vote in the lower house on the controversial issue.
Correspondents say the government does not have a majority in the upper house and a win there will not be easy.
Parliament, which was deadlocked over the issue, resumed business this week after the government agreed to a vote.
Opposition parties say allowing foreign supermarket chains to set up will put small shops out of business and hurt the poor.
The government says the reforms are needed to revive the slowing economy.
Winning the vote on the debate in the upper house will help the Congress party push ahead with further economic reforms to bolster India's slowing economy, but a defeat will come as a setback to its reform moves, correspondents say.
'Anti-farmer'
After a two-day heated debate, MPs in the Lok Sabha (lower house) approved the controversial plan on Wednesday evening.
The government victory in the Lok Sabha came about after MPs from the regional Bahujan Samaj Party and the Samajwadi Party walked out ahead of the vote, bringing down the majority required to win.
While 253 MPs voted in favour of opening up the retail sector, 218 MPs voted against it.
During the debate on Wednesday, Commerce Minister Anand Sharma defended Foreign Direct Investment (FDI) in multi-brand retail.
The decision was not taken by the government overnight, he said, and was only made after it had consulted "all stakeholders".
Mr Sharma said opening the retail sector to global firms will benefit farmers.
Opposition parties, led by the BJP, criticised the government's decision during the debate.
Senior BJP leader Sushma Swaraj said that FDI was "anti-farmer".
The BJP and left-wing parties have insisted that a debate on economic reforms must be held under rules that include voting.
The government initially rejected the demand but agreed later after its allies pledged support in the event of a parliamentary vote.