India's Sahara group gets more time to refund $3bn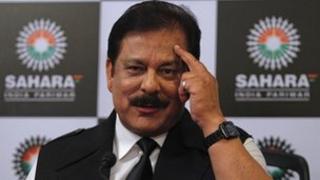 India's Supreme Court has given the Sahara business group more time to refund $3bn it had raised from investors through sale of bonds that were later found to be illegal.
Sahara has been ordered to initially deposit 51.2bn rupees ($939m; £583m) with the capital markets regulator.
The remaining money is to be paid in two instalments by February.
Sahara was ordered on 31 August to refund the money in 90 days for failing to comply with financial regulations.
The business group, which sponsors Indian cricket, was also ordered to pay 15% interest.
The Supreme Court order followed a ruling by financial regulators which found that fundraising rules had not been complied with.
Sahara began raising the money four years ago from 22 million small investors, many of them in rural India.
The group is involved in a range of activities, including finance, housing, manufacturing and the media.
It is run by flamboyant businessman Subroto Roy Sahara who styles himself as a "worker's friend" and has a rags-to-riches story. He is a household name in India.
Sahara also sponsors the Indian hockey team and owns a stake in Formula One racing team, Force India.
The group also has interests overseas, it recently bought a controlling stake in New York's landmark Plaza Hotel.