Indian government wins controversial foreign retail vote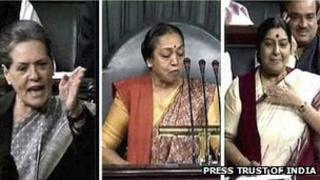 India's government has won a crucial vote in parliament on its controversial plans to open the retail sector to foreign competition.
After a two-day heated debate, MPs in the Lok Sabha (lower house) approved the plan to allow foreign investment of up to 51% in multi-brand retail.
Parliament, which was deadlocked over the issue, resumed business this week after the government agreed to a vote.
The win will help the government push ahead with further economic reforms.
Opposition parties say allowing foreign supermarket chains to set up will put small shops out of business and hurt the poor.
The government says the reforms are needed to revive the slowing economy.
'Benefit farmers'
The government victory in the Lok Sabha came about after MPs from the regional Bahujan Samaj Party and the Samajwadi Party walked out ahead of the vote, bringing down the majority required for them to win.
While 253 MPs voted in favour of opening up the retail sector, 218 MPs voted against it.
During the debate on Wednesday, Commerce Minister Anand Sharma defended Foreign Direct Investment (FDI) in multi-brand retail.
The decision was not taken by the government overnight, he said, and was only made after it had consulted "all stakeholders".
Mr Sharma said opening the retail sector to global firms will benefit farmers.
"We do not have the requisite infrastructure to manage our produce. Farmers suffer due to lack on infrastructure," he said.
Opposition parties, led by the BJP, criticised the government's decision during the debate.
Senior BJP leader Sushma Swaraj said that FDI was "anti-farmer".
"They say it will benefit farmers, but [Telecommunications Minister] Kapil Sibal said no-one will go to WalMart on cycles or two-wheelers," she said.
"Which consumer are you talking about who will... benefit - those in big cars?
"WalMart was in loss till 2008. India's economy is in [the] doldrums. So I want to ask, how will this relationship help each other?"
Senior BJP leader Murli Manohar Joshi was equally critical, warning that it would lead to foreign companies monopolising India's agricultural output.
"Pre-pricing of farm produce will lead to exploitation of farmers. Big corporates and small farmers cannot co-exist in the sector," he said.
"WalMart will not increase competition - it will destroy markets that are already very competitive."
The BJP and left-wing parties have insisted that a debate on economic reforms must be held under rules that include voting.
The government initially rejected the demand but agreed later after its allies pledged support in the event of a parliamentary vote.