India parliament holds economic reforms debate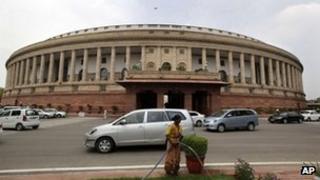 India's parliament is holding a debate on the government's controversial decision to open the retail sector to foreign competition.
The two-day debate in the lower house will be put to a vote on Wednesday.
The winter session of parliament has been deadlocked over the issue since last week.
Both houses of parliament resumed normal business this week after the ruling Congress-led government agreed to a debate with a vote.
The main opposition Bharatiya Janata Party (BJP) and left-wing parties have been insistent that a debate on economic reforms must be held under rules that include voting.
The government initially rejected the demand but agreed later after its allies pledged support in the event of a parliamentary vote.
Reports say 30 speakers from various political parties will debate the move for eight hours before the voting on Wednesday.
Reports say the government has enough MPs in the Lok Sabha (lower house) to defend the decision, but is unsure of its prospects in the Rajya Sabha (upper house).
On Monday, Mayawati, leader of Bahujan Samaj Party, a key regional party which has 21 MPs, hinted that she may support the government during the debate.
Opposition parties say allowing foreign supermarket chains to set up will put small shops out of business and hurt the poor.
The government says the reforms are needed to revive the slowing economy.