Maldives says will take over airport from India's GMR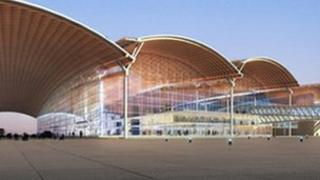 The Maldives says it will press ahead with its decision to cancel a major airport investment deal with an Indian firm, despite an injunction by a Singapore court.
A presidential spokesperson said the decision to end the contract with the Indian firm GMR was "irreversible".
GMR, however, says the court order means it can continue to operate the airport as per the original agreement.
The decision has sparked a row between the Maldives and India.
Delhi has suggested it could lead to the suspension of millions of dollars in Indian aid to the Maldives.
GMR and Malaysia Airports Holdings Berhad won a joint contract in 2010 to operate the airport for 25 years.
Former Maldivian president Mohamed Nasheed, who initiated the project, has described its cancellation as a blow to foreign investment and tourism.
'Very concerned'
"It's our decision, it's not reversible, it's not negotiable," Masood Imad, the media secretary to the current Maldives president, told the BBC's Charles Haviland in Colombo.
He said Monday's ruling in Singapore was in respect of compensation that the Maldives government would be obliged to pay GMR - and the government was engaged in working that out.
Asked if the government was going against the court ruling, he replied: "No sir."
But, he said, the government was within its rights to terminate the overall contract and that had not changed, our correspondent reports.
However, Fayaz Ismail, a Maldives-based lawyer for GMR, told the BBC that this was a "completely false interpretation" of the Singapore court's ruling.
He said the ruling "very clearly restrains the government" from taking "action which might jeopardise the operation of the airport" until the arbitration process was completed.
"We're very concerned," Mr Ismail said.
Last week, the authorities in Male suddenly cancelled the $500m (£312m) contract with GMR to manage the Ibrahim Nassir International Airport.
The government in Male said it was advised by unnamed British and Singaporean lawyers to cancel the agreement with GMR.
India said the move would send a "very negative signal" to foreign investors.
GMR has a 77% stake in the operation while the Malaysia Airports Holdings Berhad owns the remaining 23%.