Norway court jails Indian parents in 'child abuse' case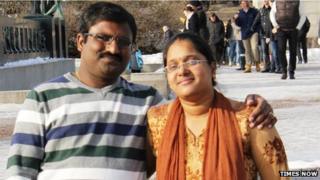 A court in Norway has convicted an Indian couple for abusing their seven-year-old son.
Chandrasekhar Vallabhaneni, a software professional, was sentenced to 18 months in jail. His wife Anupama was sent to jail for 15 months.
The couple were charged with "gross or repeated maltreatment" of their son and found guilty of burning and hitting the child with a belt.
The couple and their family have denied the charges and said they would appeal.
Some reports said Mr Vallabhaneni had "threatened" to send the child to India for wetting his pants in the school bus.
But, the Norwegian authorities said the child had burn marks and scars on his body.
The couple's children are with their grandparents in the southern Indian city of Hyderabad.
India has said the incident relates to a private citizen and Norway's local laws, but added that its Norway mission will do whatever is "appropriate" in the case.
Indians have recently fallen foul of Norway's parenting laws.
In April, two Indian children who were taken away from their parents finally returned to India after a Norwegian court agreed to hand them over to their uncle.
Norway's Child Welfare Agency (CWA) had taken three-year-old Abhigyan and one-year-old Aishwariya Bhattacharya into custody in May 2011 alleging their parents did not adequately look after them.
The parents said that "cultural differences" were behind the agency's decision and the incident caused a diplomatic row between Norway and India.
The case received extensive media attention in India and provoked public anger, with the Indian government saying that the children should be allowed to live in their own cultural and linguistic environment.