India cash transfer announcement questioned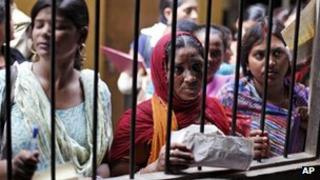 India's election authorities have sought an explanation from the government over its recent announcement of a plan for a cash payout of subsidies to the poor from 1 January.
The demand followed protests against the move by the main opposition BJP.
The party said the announcement had come at a time when two states were holding elections and had violated the election code of conduct.
Gujarat and Himachal Pradesh are holding polls in November and December.
The BJP had written to the Election Commission saying the government should withdraw the announcement of the plan until the polls were over in the two states.
Polling is scheduled to end on 17 December and the votes will be counted three days later.
The party said it appeared that the announcement "appears to be the sinister intention of the government to use this for influencing voters in Gujarat" and was a "violation" of the election code of conduct.
The Election Commission has sought an explanation from the government by Monday evening, failing which it would take "appropriate action".
Under the scheme, money meant for recipients of 29 welfare programmes - mainly related to scholarships and pensions - will be transferred to bank accounts linked to their unique identification numbers in 51 districts spread over 16 states from next January.
If all goes well, the scheme will cover the entire country by the end of 2013.
Authorities say it will be a potential game-changer, bringing the country's poorest citizens into the mainstream.
But opposition parties have accused the government of "bribing the voters" ahead of the 2014 general elections.