India Zee News editors in 14-day judicial custody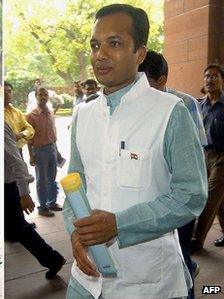 An Indian court has remanded two senior editors from the television channel Zee News for another two weeks.
Sudhir Chaudhary, head of news, and Samir Ahluwalia, head of business, are accused of trying to extort millions of dollars in exchange for not running reports on an alleged coal scam linked to the Jindal Group.
Zee News have called for their release and said their arrest was "illegal".
Both the journalists and the channel have vehemently denied the charges.
Magistrate Gaurav Rao said "the investigation is in process" and therefore he sent the two journalists to Tihar Jail until 14 December.
A fresh plea for bail has been filed on behalf of Mr Chaudhary and Mr Ahluwalia.
The two journalists were arrested following the release last month of video footage said to have been secretly filmed by Jindal group officials during a meeting with the two editors.
At a press conference on Wednesday, the head of Zee News Alok Agrawal said "Naveen Jindal [managing director of the Jindal Group and a politician with the governing Congress party] tried to bribe my reporters."
Mr Agrawal said since his editors were co-operating with the police, there was no reason to arrest them.
Zee News has threatened to launch a defamation case against Mr Jindal who, along with his officials, made the complaint.
The two journalists are accused of asking Jindal officials for about $18m (£11m) in advertisements in exchange for suppressing news reports about the firm's alleged links to a high-profile corruption scandal involving the allocation of coal mining concessions.
Mr Jindal has refused to comment on the arrests because the case is in the courts.
The arrest of senior journalists is extremely unusual in India.
Analysts say that, whatever the truth, it is likely to lead to a wider debate about media ethics and the relationship between editors and the world of business.
Related Internet Links
The BBC is not responsible for the content of external sites.