India ex-Karnataka chief minister Yeddyurappa quits BJP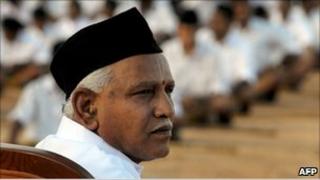 The former chief minister of the southern Indian state of Karnataka and senior member of the Bharatiya Janata Party has resigned from the party.
BS Yeddyurappa said he had sent his resignation letter to the party chief, Nitin Gadkari.
He said he was leaving because some in the BJP did not want him to "continue in the party".
Mr Yeddyurappa quit as chief minister after an anti-corruption report in 2011 indicted him in a $3bn mining scandal.
The 70-year-old politician denies any wrongdoing and says he will clear his name.
"Some people did not want to me to continue as chief minister. They tried to put me in the dock. I tolerated the past one year with a lot of patience," Press Trust of India quoted Mr Yeddyurappa as saying.
"I am leaving the party with deep sadness," he added.
Mr Yeddyurappa is credited with giving India's main opposition right-wing Bharatiya Janata Party a foothold in southern India with the party's first state government in the region.
Correspondents say Mr Yeddyurappa belongs to the influential Lingayat community and his departure could threaten the survival of the BJP in Karnataka.
He is expected to launch his own party called the Karnataka Janata Paksha in December.