Section 66A: India new rules to make Facebook arrest tougher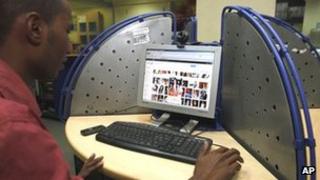 India has issued new guidelines which make it harder for the police to arrest people for comments on social networking and other internet sites.
Now, a senior officer must approve before a complaint can be registered under the controversial Section 66A of the Information Technology Act.
Last week, two women were arrested for comments on Facebook following the death of politician Bal Thackeray.
The arrests led to an outrage with many calling for scrapping the law.
Separately, the Supreme Court will hear a petition challenging the law on Friday.
Delhi student Shreya Singhal, who has filed a petition in court, says "the phraseology of Section 66A is so wide and vague and incapable of being judged on objective standards that it is susceptible to wanton abuse".
Sweeping powers
The new guidelines were issued by the telecoms ministry on Thursday.
A "police officer or police station may not register any complaints unless he has obtained prior approval at the level of an officer not below the DCP [deputy commissioner of police] rank in urban and rural areas and IG [inspector-general] level in metros", Press Trust of India quoted an official as saying.
Section 66A of India's Information Technology [IT] Act is sweeping in its powers - it can send a person to jail for three years for sending an email or other electronic message that "causes annoyance or inconvenience".
In recent months, several arrests have been made under the law with critics accusing the government of "abuse of authority".
Earlier this week, two senior policemen were suspended over the arrest of Shaheen Dhada and Renu Srinivasan.
Ms Dhada was held for criticising Mumbai's shutdown after Bal Thackeray's 17 November death. Ms Srinivasan, who "liked" the comment, was also arrested. The two were later released on bail.
In October, Ravi Srinivasan, a 46-year-old businessman in the southern city of Pondicherry, was arrested for a tweet criticising Karti Chidambaram, son of Indian Finance Minister P Chidambaram. He was later released on bail.
In September, there was outrage when a cartoonist was jailed in Mumbai on charges of sedition for his anti-corruption drawings. The charges were later dropped.
In April, the West Bengal government arrested a teacher who had emailed to friends a cartoon that was critical of Chief Minister Mamata Banerjee. He too was later released on bail.