What's wrong with Indian cricket's spin bowlers?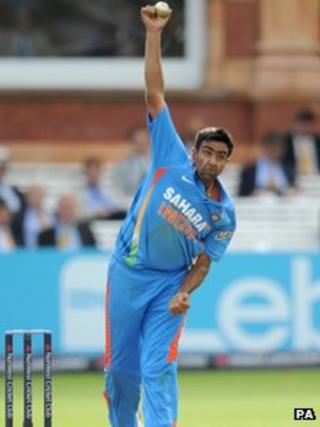 India lost the second cricket Test against England in Mumbai as much due to their inept batting against spin as their lack of a plan for their spinners.
Much has been made of the greater pace at which Graeme Swann and Monty Panesar bowled, as if that explained everything.
But there were other factors which helped them outperform Indian spinning trio Harbhajan Singh, Ravichandran Ashwin and Pragyan Ojha - consistency, for one.
The ability to hit a spot ball after ball, over after over, session after session is a skill great spinners have, especially on a helpful track. The Indian spinners seemed determined to put their entire range on display rather like a novelist putting everything he knows into his first book.
There was also the psychological battle within the ranks.
Harbhajan, in his comeback Test, his 99th, had a point to prove faced with Ashwin who had just become the quickest Indian to reach 50 Test wickets. Both bowlers were thus under pressure, and that must have affected performances too.
It will be interesting to find out the role played by Indian coach Duncan Fletcher and bowling coach John Dawes.
Dereliction of duty
Actually, there is irony here: that a Zimbabwean batsman and an Australian medium pacer should tell Indian spinners how to bowl on home tracks.
Either they did, and nothing happened, or they didn't, in which case there was a dereliction of duty.
Captain Mahendra Singh Dhoni's insistence that turning tracks are the proper response to getting beaten by 10 wickets on one is depressing - especially since turners have often favoured visiting spinners.
Derek Underwood finished with 29 wickets when England last won three Tests in a series in India, in 1976-77.
The Indian spin quartet was at its peak then, but the combination of Bishan Bedi, Bhagwat Chandrasekhar, Erapalli Prasanna and Srinivas Venkatraghavan managed to eke out just a single win, in Bangalore.
Bangalore was also the venue for another important life lesson in spin bowling.
India's Maninder Singh claimed seven wickets as Pakistan were dismissed for 116 in 1986-87. India lost because off-spinner Tauseef Ahmed and left-arm spinner Iqbal Qasim ran through the side in the fourth innings (Sunil Gavaskar playing one of his great innings for 96), following advice from Bedi who told them: "On a spinning wicket, the ball that does not turn is the danger delivery."
England might not have won the Mumbai Test so easily had Anil Kumble - the wicket seemed to be made for him - been in the India side.
Do Indian spinners have a chat with former greats in the course of a Test series?
Both Bedi and Kumble are readily available, and many visiting spinners have paid them rich tributes for helping them out in the name of the 'Spinners' Union' which recognises no geographical boundaries.
Perhaps the Indian spinners struggled in Mumbai because India were not using all their strengths - and that includes the experience of the men who went before.
Still, England's victory has brought the series alive and shone a light on many of India's weaknesses that might have remained hidden and uncommented upon had the Test gone the other way.
It has also taken 4-0 out of the equation, which is welcome.
When there was an uproar over India's tactic of not playing spinners in the matches leading up to the first Test, some felt it was not so much to show off their strength as to hide their weakness.
It was cruel, and the win in Ahmedabad seemed to confirm that.
And then came Mumbai. A stunning innings by Kevin Pietersen and a superbly controlled century by skipper Alastair Cook made a mockery of Dhoni's call for turning tracks.
Most languages have a saying about falling into the hole you have dug for your enemies.