Date set for Mumbai plotter sentencing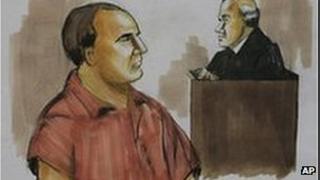 A Chicago man who pleaded guilty to checking targets for the 2008 Mumbai attacks will be sentenced on 17 January, a judge has ruled.
David Coleman Headley, a Pakistani-American, entered a guilty plea on 12 counts in a Chicago court in 2010.
Headley initially denied the charges but changed his plea to avoid the death penalty or extradition to India, Pakistan or Denmark.
The attacks in Mumbai claimed 166 lives. Nine gunmen were also killed.
Headley faces a life in prison with no chance of parole, reports say.
The sentencing of a former friend of Headley, Tahawwur Rana, who was convicted of aiding Pakistan-based Islamic militant group, Lashkar-e-Taiba blamed for the Mumbai attacks, has been scheduled for 15 January.
Born in Washington, Headley, 52, was brought up partly in Pakistan and later in the US.
While working as businessman in Chicago, he made several surveillance trips to India and Denmark and, according to court documents, passed on information to his contacts within the Lashkar-e-Taiba.
Headley was arrested by FBI agents in Chicago in October while trying to board a plane for Philadelphia.
He is alleged to have told prosecutors that he had been working with Lashkar-e-Taiba since 2002.
He was first charged with plotting to attack the Danish newspaper Jyllands-Posten after they angered Muslims by publishing cartoons of the Prophet Muhammad.
The 60-hour siege of Mumbai began on 26 November 2008 and the attacks targeted a railway station, luxury hotels and a Jewish cultural centre
Last week, Mohammad Ajmal Amir Qasab, the sole surviving gunman in the attacks, was hanged in a prison in western India after India's president rejected his clemency plea.