Maldives defends GMR airport contract row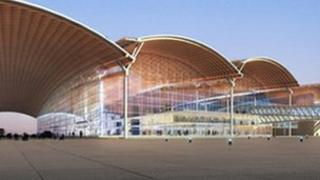 The authorities in Maldives have defended a controversial decision to cancel a $500m (£312m) contract with an Indian firm to manage Male airport.
The deal faced "legal, technical and economic issues", President Mohamed Waheed's office said in a statement.
The firm, GMR, said the decision to take "possession and control of the Ibrahim Nassir International Airport was "irrational" and "unlawful".
India said the move would send a "very negative signal" to foreign investors.
Delhi asked Male to ensure the safety and security of Indian interests and Indian citizens in Maldives.
On Tuesday, the government in Male said it was advised by unnamed British and Singaporean lawyers to cancel the agreement with GMR.
"The cabinet decided to terminate... on grounds that there were many legal, technical and economic issues regarding the agreement, and that it was legally invalid, and impossible to further continue," President Waheed's office said, news agency AFP reported.
Former Maldivian leader Mohamed Nasheed, who had initiated the GMR deal, described the decision as a major blow to foreign investment and tourism.
"This decision is bad for tourism, bad for the economy and bad for the Maldivian people," AFP quoted a statement from Mr Nasheed as saying.
"This will put off potential investors for decades," he said.
GMR has been running the airport since November 2010 in a joint venture with Malaysia Airports Holdings Berhad, the company said in a statement.
GMR has a 77% stake in the operation. It won the contract in 2010 to operate the airport for 25 years.