India PM Singh confident of parliament vote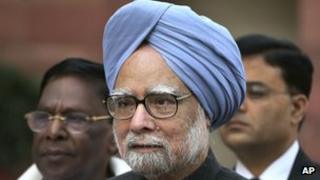 Indian PM Manmohan Singh says his government is confident of winning a test of strength in parliament over its controversial decision to open the retail sector to foreign competition.
Parliament has been deadlocked over the issue since last week.
Opposition parties are insisting that a debate on the decision must be put to a vote.
Mr Singh's remark is the first sign that the government might be willing to agree to a vote.
For the first four days of the winter session parliament has adjourned without doing any business.
The main opposition Bharatiya Janata Party (BJP) and left-wing parties are demanding that a debate on economic reforms must be held under Rule 184 that ends with a vote.
"We are confident of numbers," Mr Singh said on Tuesday, indicating that the government had the backing of enough MPs to win should a parliamentary vote be held.
The allies of the Congress-led government have pledged their support in the event of a parliamentary vote.
The Dravida Munnetra Kazhagam [DMK] party, a key ally, says while it has "reservations" on foreign direct investment (FDI) in retail, it will support the government to keep the BJP out of power.
And the regional Samajwadi Party and Bahujan Samaj Party, who support the government, have said they will not insist on a vote after a debate on economic reforms.
Opposition parties say allowing foreign supermarket chains to set up will put small shops out of business and hurt the poor.
The government says the reforms are needed to revive the slowing economy.