Obituary: Inder Kumar Gujral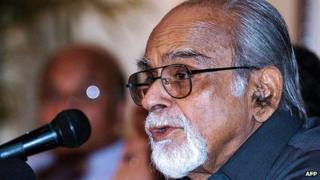 Inder Kumar Gujral, the 12th prime minister of India, was an accidental prime minister.
He was catapulted into the role in 1997 when the Congress party withdrew support to the United Front coalition government of Prime Minister HD Deve Gowda.
His conciliatory skills and personable nature made him the most acceptable candidate to the Congress.
Mr Gujral more than lived up to the role history bestowed on him.
He brought to the job a strategic vision of India's role in its immediate neighbourhood - known as the "Gujral doctrine".
He pursued that vision during his two terms as India's external affairs minister from 1989-1990 and 1996-1998, as well as during his 11-month tenure as prime minister.
Mr Gujral represented the benign face of Indian foreign policy believing that a generous approach could be rewarding.
The Gujral doctrine held that India should go the extra mile with its neighbours without expecting reciprocity - as long as they did not endanger India's security.
The doctrine did not apply to Pakistan, to which he gave no concessions.
Tempered by an outward Punjabi affability, IK Gujral was known for his proclivity for a "jhappi" (a hug).
It also got him into trouble once - a photo of him hugging Saddam Husain after the Iraqi invasion of Kuwait got him a lot of bad press.
However, the Gujral doctrine was not a great success.
India's smaller neighbours construed the concessions they got as the result of their own diplomatic efforts and Mr Gujral did not get any credit.
In concluding the historic Ganga Water Treaty with Sheikh Hasina's government in Bangladesh, in which the two countries would share water from the Ganges river, Mr Gujral as the external affairs minister of India managed to get a difficult issue out of the way.
For this, he managed to get on board the Communist government in West Bengal, which was not an easy task.
Yet, the treaty brought no immediate foreign policy dividends as there was a change of government in Bangladesh soon after it was signed and the relationship became turbulent once again.
'Third-rate power'
Mr Gujral was known for his sense of propriety, graciousness and the ability to handle even the worst situations without making them confrontational.
And chastising others publicly was not the way he operated and rarely did he speak harshly.
But, like other Indian prime ministers before him, Mr Gujral would not countenance, what he considered, foreign "interference" in India's internal issues - least of all from a former colonial power.
So when the then British foreign secretary Robin Cook offered to mediate on the Kashmir issue, an upset IK Gujral famously referred to Britain as a "third-rate power".
During a state visit to Cairo, Mr Gujral said during a private interaction with Egyptian intellectuals: "Britain is a third-rate power nursing delusions of grandeur of its colonial past. It created Kashmir when it divided India. And now it wants to give us a solution."
As a young man, Mr Gujral had fought against British rule and had been jailed during the Quit India movement in 1942.
During the Emergency in the 1970s when prime minister Indira Gandhi suspended all civil liberties, his job as her information and broadcasting minister was not easy.
But, he refused to do the bidding of Mrs Gandhi's son and heir apparent Sanjay Gandhi - whether it was doctoring news or punishing newspapers which were not supportive of his mother.
He had the courage to tell Sanjay Gandhi that he was only answerable to the prime minister of India.
Mr Gujral was summarily removed from the cabinet and later banished as Indian ambassador to the Soviet Union from 1976 to 1980 - an important country for India then but a punishment nonetheless for an active politician.
Blemishes
In the mid 1980s, he finally left the Congress and joined the socialist Janata Dal party.
His tenure as prime minister from 21 April 1997 - 19 March 1998 was marked by two blemishes.
First, within a week of assuming charge, his colleague, party president and Bihar's Chief Minister Laloo Prasad Yadav faced criminal charges for embezzling funds from the state's animal husbandry department meant for purchasing fodder for cattle.
Not only did Mr Gujral refuse to act - he owed his seat in the upper house [the Rajya Sabha] to Mr Yadav - he shot the messenger.
His government transferred the director of India's top investigating agency, the Central Bureau of Investigation (CBI), before he could complete his term and Mr Gujral alienated many for this hatchet job.
The second incident which marred his tenure was when he recommended federal rule in the northern state of Uttar Pradesh even as the government there sought a vote of confidence.
The then president, KR Narayanan, refused to comply with the recommendation.
Mr Gujral had to leave office when the Congress party withdrew support to his government over a report into the assassination of former prime minister Rajiv Gandhi.
The report alleged that a key ally of the United Front, the Dravida Munnettra Kazagham (DMK), had supported the Sri Lankan Tamil Tigers which was responsible for Rajiv Gandhi's assassination.
The Congress wanted all DMK ministers dropped in return for continuing outside support to the government, but Mr Gujral refused to do so and his government fell.
Born on 4 December 1919 in Jhelum, now in Pakistan, he started life as a student activist of the Communist Party of India but later joined the Congress party and eventually the Janata Dal.
Irrespective of which party he was in, he remained quintessentially an old school politician with friends across party lines.