India policemen suspended over Facebook arrests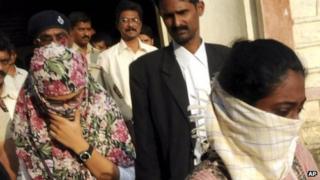 Two senior Indian policemen have been suspended over the arrest of two women for comments made on Facebook following the death of politician Bal Thackeray.
Maharashtra state's home minister said the men had disobeyed orders. The judge in the case has also been transferred.
Shaheen Dhada was held for criticising Mumbai's shutdown after the 17 November death. Her friend Renu Srinivasan, who "liked" the comment, was also arrested.
The two were later bailed amid outrage that free speech was not being upheld.
Critics have accused the government of "abuse of authority" and the women told the BBC they had been "traumatised" by their arrest.
'Unjustified'
Maharashtra Home Minister RR Patil said the state government had taken the decision to suspend the officers.
"Superintendent of Police for Thane (rural) district Ravindra Sengaonkar and Palghar sub-inspector Srikant Pingle have been suspended for disobeying the orders of superiors," Mr Patil was quoted as saying by the CNN-IBN news channel.
The suspensions came after a police inquiry called the arrests "unjustified".
On Monday, the high court in Mumbai transferred magistrate Ramchandra Bagade, who had ordered the women to pay 15,000 rupees ($270; £169) each before they were freed on bail.
Although the court did not give any reasons for the transfer, Indian media reports have linked it to the women's arrest.
The death of Bal Thackeray, the Hindu nationalist politician who founded the Shiv Sena party, brought Mumbai to a halt.
In her Facebook comment, 21-year-old Shaheen Dhada wrote: "People like Thackeray are born and die daily and one should not observe a 'bandh' [shutdown] for that."
After Ms Dhada's comment appeared on Facebook, a mob attacked and vandalised her uncle Abdul Dhada's clinic in Palghar.
Ms Dhada and Ms Srinivasan were charged with "creating or promoting enmity, hatred or ill-will between classes". They were also charged under the Information Technology Act.
Freedom of speech
Several other recent cases have raised concerns about freedom of expression in India, the world's largest democracy.
In October, Ravi Srinivasan, a 46-year-old businessman in the southern city of Pondicherry, was arrested for a tweet criticising Karti Chidambaram, son of Indian Finance Minister P Chidambaram. He was later released on bail.
In September, there was outrage when a cartoonist was jailed in Mumbai on charges of sedition for his anti-corruption drawings. The charges were later dropped.
In April, the West Bengal government arrested a teacher who had emailed to friends a cartoon that was critical of Chief Minister Mamata Banerjee. He too was later released on bail.