India allies 'back' government on economic reforms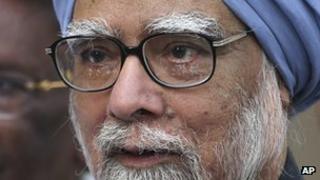 India's ruling Congress party says its allies are "firmly behind it" as it tries to end the deadlock in parliament over opening the retail sector to foreign competition.
Parliament has been adjourned for the first four days of winter session without doing any business.
The opposition is insisting that a debate on reforms must be put to vote.
Parliamentary Affairs Minister Kamal Nath said the government was ready to discuss the issue "under any rule".
"We are not concerned about vote," Mr Nath told reporters after the meeting of the Congress party and its coalition partners on Tuesday.
"It is for the Lok Sabha (lower house) Speaker to decide under which rule a discussion on FDI [foreign direct investment] should be held," he added.
India's main opposition Bharatiya Janata Party (BJP) and left-wing parties are demanding that a debate on economic reforms must be held under Rule 184 that ends with a vote.
The issue has stalled parliament since the winter session began last Thursday.
An all-party meeting on Monday failed to break the impasse.
Several of the Congress party's allies, however, have said they would support the government on the FDI issue.
M Karunanidhi, leader of the Dravida Munnetra Kazhagam [DMK] party in Tamil Nadu, said on Tuesday that while they had "reservations" on FDI in retail, they would support the government to keep the BJP out of power.
On Monday, the regional Samajwadi Party and Bahujan Samaj Party said they would not insist on a vote after a debate on economic reforms.
Opposition parties say allowing foreign supermarket chains will put small shops out of business and hurt the poor.
The government says the reforms are needed to revive the slowing economy.
The winter session, which began on Thursday, is scheduled to enact 25 pieces of legislation and debate another 10 bills before closing on 20 December, according to the Press Trust of India news agency.
Under the government's proposal, global firms - such as Walmart and Tesco - will be able to buy up to a 51% stake in multi-brand retailers in India.
Prime Minister Manmohan Singh says the reforms will "help strengthen our growth process and generate employment in these difficult times".