India activist Arvind Kejriwal's Aam Aadmi Party vows change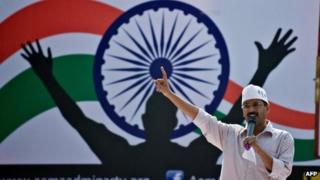 Leading anti-corruption campaigner, Arvind Kejriwal, says his new party will change India's politics.
The Aam Aadmi Party (AAP) - or Common Man Party - was formally launched by Mr Kejriwal and his supporters at Delhi's Jantar Mantar observatory on Monday.
Mr Kejriwal has pledged to contest next year's assembly elections in Delhi and the next general elections due in 2014.
He announced plans for a new party on 2 October, the birth anniversary of independence hero Mahatma Gandhi.
The Aam Aadmi Party will fight against the culture of "bribe-taking", Mr Kejriwal says.
"It is a historic moment today. On 26 November 1949, the Constitution of India was adopted and today, on 26 November 2012, people of this country are redeeming that pledge why we fought for the country and the kind of India we wanted," Mr Kejriwal told the CNN-IBN channel ahead of the launch on Monday.
"Unfortunately, we have a completely different India today. Our freedom fighters did not fight for this kind of India," he said.
Mr Kejriwal said his party would never compromise on "corruption, democracy and nepotism".
The party's launch on Monday was attended by thousands of supporters.
"This party is a result of our struggle against corruption," Mr Kejriwal said at the launch.
His colleague, Manish Sisodia, announced the names of the 23 members of the party's national executive body.
Correspondents say the new party aims to tap into public anger against several high-profile corruption scandals which have come to light in the last few months.
'Sacred agitation'
A former bureaucrat, Mr Kejriwal won the Ramon Magsaysay award in 2006 for social work and initiatives to fight corruption.
Two years ago, the 44-year-old set up a group called India Against Corruption aimed at putting pressure on the government to bring about tough anti-corruption laws.
The movement was led by anti-corruption campaigner Anna Hazare through a series of hunger strikes and protests.
But the two campaigners parted ways over Mr Kejriwal's plans to enter politics, with Mr Hazare saying he preferred "sacred" agitation over politics, "which is full of dirt".
Both are demanding the appointment of an independent ombudsman to prosecute politicians and civil servants suspected of corruption.
The idea was passed by the lower house of parliament in the form of the Lokpal bill in December 2011.
But the upper house adjourned amid chaos without passing the controversial legislation.