BJP leader Ram Jethmalani suspended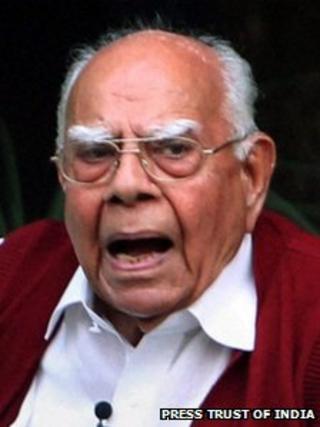 A senior leader of India's main opposition Bharatiya Janata Party (BJP) has been suspended for "gross indiscipline", a party spokesman says.
Ram Jethmalani, who is also a well-known lawyer, recently demanded the resignation of party chief Nitin Gadkari.
This followed allegations Mr Gadkari had been involved in a corruption scandal.
Mr Gadkari has denied the allegations and says he is ready for a probe.
Mr Jethmalani also criticised his party for opposing the government's appointment of Ranjit Sinha as the new chief of the Central Bureau of Investigation, India's federal detective agency.
Mr Jethmalani said that "nobody has the guts to take action against me".
BJP spokesperson Shahnawaz Hussain was quoted as saying by state broadcaster Doordarshan News that Mr Jethmalani's remarks "are meant to help the [ruling] Congress party" and were an "act of gross indiscipline".
"Our party president Nitin Gadkari has taken cognisance of Ram Jethmalani's statements and his challenge that no action can be taken against him and has suspended his membership of the party with immediate effect," he said.
Me Jethmalani, 86, is a BJP MP in the upper house of parliament from the northern Rajasthan state.