IAEA: India Rajasthan nuclear reactors 'safe'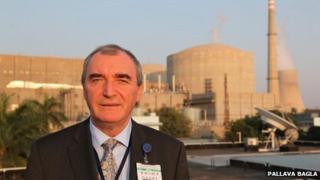 The UN nuclear watchdog has said India's reactors are among the "best and safest" in the world.
After doing an audit of two reactors at the Rajasthan Atomic Power Station over several weeks, it said the plant "can withstand a Fukushima-type accident"
The International Atomic Energy Agency (IAEA), however, said "improvements were needed in fire protection and electrical cabling systems".
This is the first time ever that India has allowed access to UN inspectors.
Indian experts, however, say the situation at some of the older reactors is different and that India must allow UN inspectors to audit them too.
'Room for improvement'
"India has emerged a winner with a high global safety rank [in the audit]," Miroslav Lipar, head of the Operational Safety Division at the IAEA in Vienna, said.
Mr Lipar headed a 12-member multinational team from the Operational Safety Division of the IAEA which visited the indigenously made 220 MW Indian-made reactors at the Rajasthan plant for their operational safety.
"The Indian reactors are safe and impressive," he said, but also pointed out that "there was room for improvement".
The plant should incorporate a system of "root cause analyses" so that when something goes wrong "it is easier to answer not just what happened but why it happened", he said.
Mr Lipar said the two reactors they assessed "were among the best reactors in the world which showcased some good practices from which the world could also learn".
Mr Lipar said the team was allowed access to all parts of the reactor and "nothing was out of bounds or hidden" from them.
The waste disposal facilities "were up to the mark", he said and added that the team was "impressed" in the way the personnel at the reactor separated high-level highly radioactive waste and low-level relatively benign waste.
Critics, however, say India should allow UN experts to audit its oldest reactors at Tarapur - the two boiling water reactors made by General Electric in 1969.
"These two smaller Tarapur units are totally unsafe and should have been shut down long ago as they are of a similar kind like the atomic reactors that exploded one after another at the Fukushima site in Japan," says former chairman of the Atomic Energy Regulatory Board, Dr A Gopalakrishnan.
India has recently witnessed weeks of protests in the southern state of Tamil Nadu where a nuclear power plant has come up at Koodankulam.
Activists and local people are opposing the commissioning of the 1000 MW Russian-made reactor, dubbing it unsafe.
Analysts say the endorsement from the IAEA should help quell voices of dissent from those who oppose India's plans to increase the installed capacity of atomic reactors to 63,000 MW in the next two decades, up from the 4800 MW installed capacity in 20 reactors that exist today.
Pallava Bagla is a correspondent for Science and Science Editor for New Delhi Television