Probe ordered into Chhath stampede in India's Bihar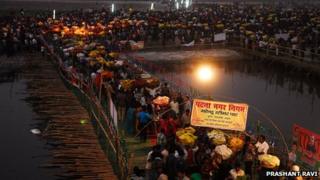 Authorities in the Indian state of Bihar have begun an investigation into a stampede at a religious ceremony on Monday in which 17 people were killed.
The accident happened when a bamboo bridge collapsed on the banks of Ganges river where Hindu devotees were offering prayers as part of the annual Chhath ritual.
In the ensuing panic, the victims were crushed to death.
Many of the dead were women and children.
The bridge had been built recently to allow pilgrims access to the Ganges, which has shifted course.
"When the bridge collapsed, power cables strung on it snapped and lights went off, and in the darkness people scrambled, which triggered the stampede," city administrator Sanjay Kumar Singh told the AFP news agency.
Fifteen survivors have been taken to hospital in Patna, the capital of Bihar. Some are said to be in a critical condition.
The four-day Chhath puja is the biggest religious festival in Bihar and eastern Uttar Pradesh. Tens of thousands of people come to the Ganges to offer prayers to the sun god.
The prayer is offered both at sunset and sunrise.