Chhath stampede in India's Bihar leaves 14 dead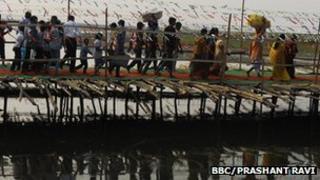 At least 14 people have been killed and many injured in a crush at a religious ceremony in Bihar, northern India.
Many of the dead are feared to be women and children.
Police say the accident happened following the collapse of a makeshift bamboo bridge on the banks of river Ganges where Hindu devotees were offering prayers to the setting sun as part of the annual Chhath ritual.
In the ensuing panic, the victims were crushed to death.
Local TV channels report the structure was showing signs of collapse early on Monday.
The bridge had recently been built to take pilgrims to the Ganges, which has shifted course.
Police say power to the site had failed, which increased the panic of those caught up in the crush.
Survivors have been taken to hospital in Patna, the capital of Bihar. The condition of some is said to be critical.
The chief minister of Bihar state, Nitish Kumar, had earlier visited the devotees on the banks of the Ganges.
He and other members of the state government have been accused by the opposition Rashtriya Janata Dal party of failing to make adequate preparations for the festival.
The four-day Chhath puja is the biggest religious festival in Bihar and eastern Uttar Pradesh. Tens of thousands of people come to the Ganges to offer prayers to the sun god.
The prayer is offered both at the sunset and sunrise time.