Three die in India 'honour' killing in Bihar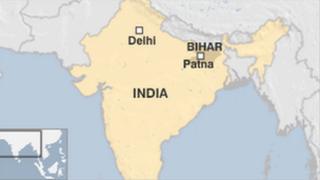 Two young children and their father have been killed and their mother injured in an attack in the northern Indian state of Bihar, police say.
Dilaru Bind died along with his daughter, three, and six-month-old son. His wife, Rani, was seriously wounded.
She told police they were attacked by relatives who opposed their marriage.
So-called honour crimes are common in India, where many still prefer arranged marriages within their own caste and love matches are frowned upon.
The couple eloped four years ago but recently returned to their home village in Kaimur district west of Patna.
Reports said Rani's family had been opposed to their marriage and had threatened them in the past.
She escaped the Sunday night attack by jumping from the rooftop of the house in the village of Kekram some 150km (93 miles) west of the state capital, police said.
She has been admitted to the local government hospital in the town of Mohania.
There are no statistics on the number of "honour" killings across India, but according to one recent study, hundreds of people are killed each year for falling in love or marrying against their families' wishes.
Last year, India's Supreme Court said so-called honour killers should face the death penalty.