India man says 1943 UK officer murder was for independence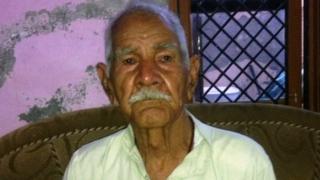 A 90-year-old Indian man says his killing of a British woman army officer nearly 70 years ago was not an act of murder but part of an anti-colonial struggle.
Jagan Nath was found guilty of the 1943 murder of the officer, listed as Captain Heran, and given life in jail.
He has never denied killing the officer by pushing her out of a moving train.
But, he says, it was part of his role in India's freedom struggle and wants the government to pay him a pension.
The authorities say pensions for "freedom fighters" cannot be paid to those who have committed crimes such as murder.
Mr Nath recently filed a petition in the Punjab and Haryana High Court demanding that the government recognise him as a freedom fighter.
The court has given the authorities six months to investigate his claim and submit a report.
'Too frail'
The incident took place in Punjab province and Mr Nath was tried in a court in Gujranwala town. The town, then in undivided India, is now in Pakistan.
Following his conviction, Mr Nath spent his initial years in Gujranwala jail, but was transferred to a prison in Ferozepur in Indian Punjab in 1948. Two years later, he was released on bail.
Authorities say they will have to approach Pakistan for the case files to establish what led to the killing of Captain Heran.
Mr Nath is too frail to talk but his son, Rishi Kumar, said: "That day, my father and his group of friends from the Indian National Army [the army formed by independence war hero, Subhas Chandra Bose] were travelling in a train when Captain Heran, accompanied by a few guards, objected to their presence.
"This led to an altercation in which Captain Heran fell off the train and died."
Mr Kumar says the Punjab government has awarded his father a "tamrapatra" (copper plate) which is awarded to freedom fighters.
The state government has also recommended him for a government pension, but the federal government has refused.
The high court has ordered the federal government to obtain copies of the original court judgement through diplomatic channels.
The "crucial issue" was whether the murder was committed "as a result of [Mr Nath's] perception that independence could be achieved through violent means or was a case of murder", the judge said.