Mumbai returns to normal after Bal Thackeray funeral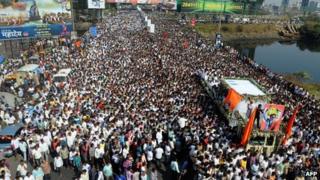 The Indian city of Mumbai is returning to normal a day after the funeral of controversial Hindu nationalist politician Bal Thackeray.
Although the city's diamond market Zaveri Bazar is shut, most markets and offices are open for business.
Thackeray, 86, died on Saturday. He founded the right-wing Shiv Sena party and was revered by followers.
On Sunday, hundreds of thousands of mourners filled the streets as his body was driven through the huge crowds.
Indian media reports suggested 1.5 million people attended the funeral, though there was no official estimate.
A couple of major trade unions in the city have decided to keep their shops shut on Monday as a mark of respect to Mr Thackeray, the BBC's Yogita Limaye reports from Mumbai.
But the public transport is normal, autos, taxis and buses are plying and there are lots of people out and about on the streets, our correspondent adds.
Divisive figure
Mr Thackeray was one of the most divisive figures in Indian politics and was blamed for inciting tensions between Hindus and Muslims.
A cartoonist by trade, he formed the Shiv Sena in 1966, partly with a view to keeping South Indian migrants out of Maharashtra state and to halt the spread of Islam.
In 2002 and again in 2008 he called on Hindus to form suicide squads to attack Muslims.
A government inquiry into the riots in Mumbai in 1992 and 1993 blamed Shiv Sena members and several party leaders for taking a major role in organising attacks on Muslims.
Thackeray was never convicted of any offence in connection with the riots.
He denied being anti-Muslim but said he was fiercely opposed to those who were pro-Pakistan.
Mr Thackeray was also instrumental in the renaming of Bombay as Mumbai to break with its colonial past.