The legacy of Bal Thackeray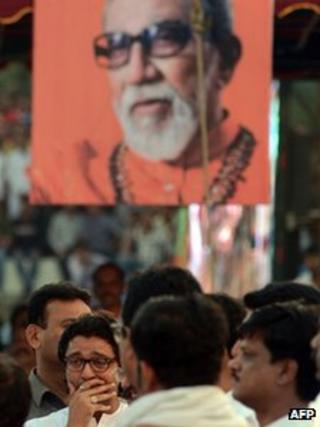 What will be the legacy of India's best known right-wing Hindu leader, Bal Thackeray, who died over the weekend?
Mr Thackeray - his father anglicised his surname after William Makepeace Thackeray, English author of Vanity Fair - ran the nativist Shiv Sena party which excelled in populism and xenophobia over four decades.
He espoused a nationalism which earned him the nickname Tiger, though as writer Suketu Mehta found on a visit to his house in Mumbai "The Tiger roars only from behind the safety of his guards". (There were 179 policemen guarding his heavily fortified mansion, Mehta wrote.)
Described by Mehta as "a cross between Pat Buchanan and Charlie Chaplin's Great Dictator", Mr Thackeray was a bewildering enigma.
The charismatic cartoonist-turned politician railed against south Indians and Muslims, provoked his men to dig up cricket pitches, drank warm beer, smoked cigars, adored Adolf Hitler, hosted Michael Jackson ('Jackon is a great artist... his movements are terrific,' he once said), berated women wearing jeans and renamed Bombay.
But over the years, Mr Thackeray's sheen appeared to have lost some of its lustre and the law of diminishing returns seemed to have caught up with Shiv Sena's narrow, exclusivist politics.
The Tiger's rhetoric sounded tired, and the party's seats in state elections - despite continuing to rule the Mumbai municipality - diminished over the years. A breakaway group, Maharashtra Navnirman Sena (MNS), headed by his nephew Raj Thackeray, is on the ascendant, retooling his uncle's politics and targeting north Indian migrants this time.
Loved and loathed in equal measure, Mr Thackeray will be sorely missed by legions of his dedicated cadres. But will he leave behind a lasting legacy?
Many analysts believe he will not. Populist leaders can be fickle and keep refashioning themselves to appeal to the masses. Observers also point out that the politics of fear and coercion can no longer fetch massive electoral dividends in a much scarred and fast changing and a more aware India. It is also difficult to see any Shiv Sena leader emerging who can invoke the frenzy and reverence that Mr Thackeray commanded.
If that is the case, the death of "The Tiger" brings to an end an era India will not be very proud about.