Burma's Aung San Suu Kyi returns to India college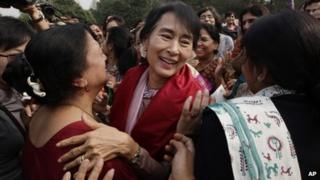 Burmese opposition leader Aung San Suu Kyi has visited the Delhi college from which she graduated with a degree in politics nearly 50 years ago.
Old friends, teachers, diplomats and students turned out in large numbers at the Lady Sri Ram College to greet her.
As she entered the packed auditorium, where she had performed plays as a young college student, she was greeted with rapturous cheers.
This is her first visit to India in almost 40 years.
Her trip comes two years after elections in Burma that formally ended military rule.
Ms Suu Kyi, a pro-democracy leader who spent many years under house arrest, was released shortly after the November 2010 polls in Burma.
Her party has now rejoined the political process and secured a small presence in parliament after winning by-elections in April 2012.
'Sparkling eyes'
On Friday, many of the college girls were dressed in the traditional Burmese longyi or long skirt.
Ms Suu Kyi was warmly welcomed by her former teachers, many of whom remembered her as a quiet young girl.
"She was so dignified and had such sparkling eyes," said Nirmala Khanna who taught her international studies in 1964.
"I want to be able to say to her how proud of her I am, how she's grown up into a beautiful woman with so much poise."
"The people of India have an emotional bond with me," Ms Suu Kyi said. "I always knew I would come back here."
But the Burmese leader also spoke of how India and Indians needed to support her cause even more.
"I wish to remind you that we haven't yet achieved democracy in Burma," she said. "We need you to help us in our progression towards democracy."
Ms Suu Kyi also spoke of a growing perception that Indians no longer valued democracy, saying that it was only "when you don't have democracy that you realise how precious it is".
As she stepped out of the hall to greet old friends and associates, she was mobbed.
"It's such an honour to see her in person," said one young girl. "She's such an inspiration, such an icon for us."
Many hoped that the Nobel peace prize winner would go on to win the 2015 elections.
"She's not just a citizen of Burma," said another young student. "She belongs to India as well and the rest of the world."
It has been a homecoming of sorts for Aung San Suu Kyi to the country where she spent many formative years as a young girl.
For years India supported her push for democracy but in recent years, the Indian government distanced itself from her as it made peace with the Burmese generals.
Now Indians are looking to renew their special bond with the shy young Burmese girl they first met nearly five decades ago.