India: Curfew imposed again in Assam district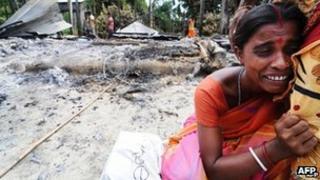 Authorities have imposed an indefinite curfew in Kokrajhar district in India's northeastern state of Assam following fresh violence, reports say.
Six people have been killed in clashes between indigenous Bodo tribes and Muslim settlers since Saturday.
Nearly 100 people died in clashes between the two sides in July and August.
Nearly 500,000 people fled their homes after the fighting and many of them are still living in relief camps.
The latest violence comes at a time when the Assam government is trying to send back those displaced during the last bout of ethnic violence.
Reports say 36,576 displaced people - mainly Muslims - are still living in 80 relief camps.
Officials said an indefinite curfew was imposed in Kokrajhar and the army has been deployed in "vulnerable" areas.
A Bodo man was shot dead by unidentified gunmen in Telipara village, and a Muslim man was injured after some men stabbed him in Bilasipara area on Thursday, the police said.