India Hindu leader Bal Thackeray 'improving'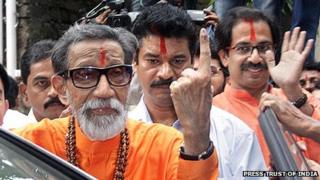 The condition of the founder of India's right-wing Shiv Sena party Bal Thackeray is improving, a senior leader of his party has said.
Earlier, doctors said Mr Thackeray, 86, was critically ill and on life support at his house in the city of Mumbai.
Party workers remain gathered outside his house and security is tight.
The cartoonist-turned-politician has courted controversy ever since he founded his party more than 40 years ago.
Mr Thackeray formed the Shiv Sena in 1966 as a "sons of the soil" movement, to fight for the rights of native Maharashtrians who, he believed, were under threat from other ethnic migrants.
Over time the party has acquired a reputation of promoting religious and ethnic chauvinism while allegedly targeting minorities, especially Muslims.
Mr Thackeray has been ailing and his condition deteriorated on Wednesday night, reports said.
The leader was having problems breathing and doctors from Mumbai's Lilavati Hospital were attending to him.
"Doctors are trying their level best [to stabilise Thackeray's condition] and conducting some tests on him," Shiv Sena leader Ramdas Kadam told Press Trust of India news agency early on Thursday.
'Stable'
Later in the afternoon, Shiv Sena spokesman Sanjay Raut told reporters that Mr Thackeray was rallying.
"He is stable now. Need not worry. He is responding to doctors' efforts," Mr Raut, who is also an MP, said.
Mr Thackeray's son, Uddhav, emerged from the family house early on Thursday and asked the crowds to pray for his father.
"We are hopeful. You be hopeful. Let's pray ... Don't trust rumours. Make peace," he was quoted as saying by the AFP news agency.
Earlier, Bollywood star Amitabh Bachchan and his son, Abhishek, visited Mr Thackeray's home, where they suffered minor injuries while moving through the rowdy crowd outside.
"Yes, both Abhishek and me were injured with cuts, but are fine and back home," Bachchan wrote on Twitter.
Last month Mr Thackeray was unable to attend a party rally but addressed it through a video message.