Aung San Suu Kyi was 'a quiet and inquisitive student'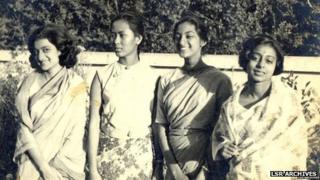 Burmese opposition leader and member of parliament Aung San Suu Kyi, who is making her first visit to India in almost 40 years, attended college in the capital, Delhi. Nirmala Khanna, one of her teachers at Lady Shri Ram College for Women, remembers her famous student.
There was nothing remarkable about the young girl in my international relations class.
Not only me, no one in the college thought she would become a world leader and the torchbearer of her country's movement for democracy one day.
I remember I saw her on my first day as a professor at the college on 26 August 1964.
I entered the classroom around nine in the morning and took the attendance. Aung San Suu Kyi was one among the 60 students in the room.
She was an introvert and a quiet student. I remember her as a down-to-earth person despite the fact that she was the daughter of Burma's ambassador to India.
Humble
Her mother, who intermittently visited the college to drop or pick Suu Kyi, was also humble.
The young girl had an obvious interest in international relations.
Though some of her classmates were very forthcoming and frequently asked weird questions apparently to bully me since I was new, Suu Kyi was different.
She took part in college activities like debates and discussions. She was never an extraordinary student, though she was always inquisitive.
Everyone use to call her "Su Chi" and we also used to call her the same way.
She left the college in three years while I kept teaching for 40 years.
There was no word from her. When TV channels and newspapers carried reports of her house arrest, people would ask 'Is she the one you taught?'
We were concerned since she was a student of our college.
The principal used to call me and we used to discuss it sometimes. Suu Kyi made us proud when she took up the cause of democracy in her country.
Later when she was given the Nobel Peace Prize, it made us really proud. Our own "Su Chi" had become a Nobel laureate.
When she was being felicitated in absentia at India's presidential house, I was invited for the programme. But I could not make it since the invitation came at a short notice.
Now that she has come to Delhi and is visiting the college on Friday after 40 years, I have been invited again.
But this time I am suffering with arthritis and it is difficult for me to walk without a stick. Cars, I am told, are not allowed inside the campus for security reasons.
But I would love to see her after all these years. Does she remember me? I don't know.
Nirmala Khanna spoke to BBC Hindi's Salman Ravi