Burma's Aung San Suu Kyi appeals for India support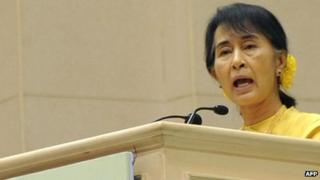 Burmese opposition leader Aung San Suu Kyi has urged Indian people to help her country achieve democracy.
On Wednesday she held a landmark meeting with Indian PM Manmohan Singh as part of her first visit to India in almost 40 years.
On Friday she will visit the college she attended in Delhi when her mother was Burma's ambassador to India.
Her trip comes two years after elections in Burma that formally ended military rule.
In 2011, a nominally civilian government led by President Thein Sein was sworn in and has since implemented a series of economic and political reforms.
Ms Suu Kyi, a pro-democracy leader who spent many years under house arrest, was released shortly after the November 2010 polls in Burma.
Her party has now rejoined the political process and secured a small presence in parliament after winning by-elections in April 2012.
But Ms Suu Kyi cautioned India against being too optimistic over the recent political changes in Burma.
"We have not yet achieved the goal of democracy and we are still trying and we hope that... the people of India will stand by us and walk by us as we proceed along the path that they were able to proceed down many years before us," she said.
The Burmese opposition leader spoke of her regret that India began to engage with Burma's military rulers in the 1990s after initially supporting the struggle for democracy.
"I was saddened to feel that we have drawn away from India, or rather India has drawn away from us during our very difficult days," she said at an annual lecture in memory of India's first post-independence Prime Minister Jawaharlal Nehru.
Ms Suu Kyi's father, General Aung San, was a personal friend of Mr Nehru.
The Nobel peace prize winner was praised for her "indomitable courage" by Mr Singh during the talks.