Indians begin to talk about S&M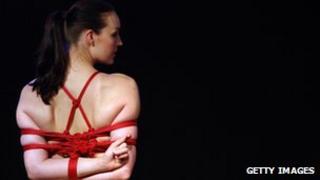 In an apartment in a middle-class neighbourhood in the Indian capital, Delhi, a group of men and women have met to talk openly about their love for BDSM activities.
Talking about bondage, discipline, domination, submission, sadism and masochism is an absolute taboo in India, a country well known for its conservative attitudes to sex.
But here, the conversation is candid.
The participants are members of the The Kinky Collective, a small group of heterosexual and transgender people, trying to connect to other Indians active and open about their BDSM preferences on various online communities and social networking websites.
'Shock'
Transgender activist Sara, a member of the group, says it has a "dual purpose".
"We want to spread awareness among people who carry preconceived notions on BDSM, but we also want to educate people joining this lifestyle about its own rules and principles. For example, consent is critical and the dominant [partner] has to always be very responsible for the submissive and take care of his/her safety."
Calcutta-based Joy Willingly says most members of the collective were slow in opening up about their BDSM lifestyle, but as they came in contact with other people, they realised that some support, organised initiative and conversations were needed urgently.
"We found out that there was a lot of hostility, once these people came out, even their friends wouldn't understand and distanced themselves, so we are now trying to give a sense of community, that there are others who feel this way, and that it's fine."
Almost a year into their work, the group, which has grown now to 15 members, has presented papers and held discussions with students of mental health, women and gay activists and participated in human rights and law conferences.
I had first met Sara at a transgender performance night organised at a popular arts centre in Delhi a few months back. Sara and her partner had enacted a very intimate BDSM sequence to an audience of about 100 people.
Simulating rough sex and the use of a belt and whip surprised and shocked many in the audience.
Many described the performance as brave while others questioned it.
Sara had to speak to many people individually but claims that such interactions were, in fact, the opportunities they needed to educate people.
Another member, Jaya, 40, says that BDSM is mostly misunderstood to be violent in India.
"It is, in fact, a very intense play of power and pain, I have been a feminist for 20 years, but I choose to be a submissive in my relationship. I chose to give my consent and don't see this as violence, but an experience that is edgy, erotic and even spiritual."
'Problematic'
Psychologists say that those who embark on BDSM "play" usually come to an agreement about the roles they will play: dominant, or submissive.
India's well-known sexologist, Dr Narayana Reddy, disagrees.
He says in the last 20 years, at least 1% of his patients came with complaints about their partner's demand for a BDSM lifestyle.
They were between 30 and 50 years old and were middle class, Mr Reddy says.
They spoke about acts ranging from being burnt by cigarette butts and severely bitten by their partners. They were also pricked with needles, tied up in chains and put on a dog's leash and "humiliated" in front of others.
"If this kind of bondage, domination and sadomasochism is the only means by which a person gets aroused, then I would term it as sexually problematic behaviour," says Dr Reddy.
"Initially, someone might try it for its novelty, but with time that can run off and it can leave deep scars, both physically and emotionally."
Many in India were surprised that Fifty Shades of Grey - a trilogy about a steamy romance between a businessman and a student which contains scenes of sadomasochism - sold so well in the country.
Sandhya Mulchandani, who has researched many historical Indian texts on erotica like Kamasutra and written books exploring Indian writings on sexuality, says: "Unlike modern times, our historical texts were not judgmental. I don't find any specific writing on BDSM, but the spirit was to acknowledge the many shades of human behaviour and ask them to be accepted for what they are."
Despite this legacy, Indians are still prudish.
So then, will a controversial lifestyle like BDSM become culturally "acceptable" anytime soon?
The Kinky Collective surely hopes so.