India vultures: Halt in rapid decline in numbers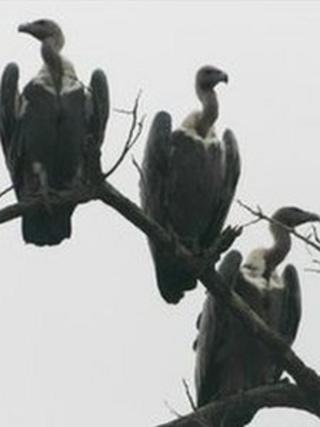 The rapid decline in the number of critically endangered Indian vultures has stopped, according to a new report.
The ban on the use of the painkiller diclofenac in cattle is the main reason for this reversal, says the report by the Bombay Natural History Society.
The stabilisation of the vulture population for the first time in 20 years is a "good sign", said Vibhu Prakash, the study's lead researcher.
"But there is still a long way to go and we must be cautious," he said.
There has been a 99% drop in the combined population of the three rare species that used to be in the tens of millions but their numbers are now well below 60,000.
Experts say vultures feeding on cattle either die from acute kidney failure within a few days or lose their ability to reproduce.
"The use of diclofenac by veterinarians has come down but not stopped altogether," Mr Prakash said.
"The drug is still available for human use and people are using those for their cattle. So it's still too early to say that the halt in the numbers is a long-term one or not," he added.
The number of the birds had crashed to such critical levels that breeding programmes were set up around the country to deal with the declining numbers.
The first of the vultures bred in captivity are due to be released by 2016.
Conservationists are now campaigning for a complete ban of the diclofenac drug to give the vultures a real chance to survive and return to the Indian skies in the numbers that once existed.