Pakistani doctor Khalil Chishti returns to India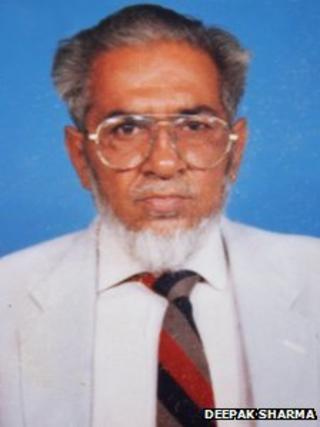 A Pakistani doctor, who was allowed to go home in May for six months after spending 20 years in detention in India, has returned.
Khalil Chishti, 80, has arrived in Rajasthan's Ajmer city accompanied by wife Mehrunissa and son Tariq.
The scientist spent 14 months in an Indian jail for a 1992 murder. In April, the Supreme Court granted him bail on humanitarian grounds.
Chishti has always denied the murder charge and says he was framed.
He was convicted and sentenced to life imprisonment in January 2011 for killing a man after a fight in Ajmer in 1992.
He was found guilty after an unusually long 18-year trial during which he was put under house arrest.
President Zardari had raised the issue of Chishti's release at his lunch meeting with Indian Prime Minister Manmohan Singh during a private visit to India in April this year.
In its order in May, the Supreme Court allowed him to visit Pakistan, but ordered him to return to India to attend his next court hearing on 20 November.
Chishti spent the last six months at his home in the Pakistani city of Karachi.