Afghan leader Karzai calls for more India investment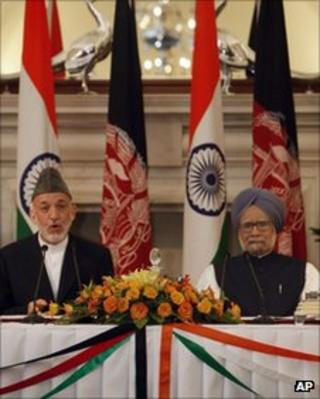 Afghan President Hamid Karzai has called for greater Indian investment in Afghanistan during talks with PM Manmohan Singh in Delhi.
At a joint press conference, Mr Singh said Afghanistan's economic development would lead to "the overall prosperity and stability in the region".
The countries also signed a series of agreements, including on mining and development projects.
Delhi has already pledged $2bn (£1.3bn) in assistance to Kabul.
During his four-day India visit, Mr Karzai urged greater Indian investment in Afghanistan - "a country more confident of its future".
In June, India hosted an international investment conference on Afghanistan, barely a week before another global gathering in Tokyo, to pledge aid.
Last year, the two countries signed a strategic partnership to deepen security and economic ties.
Correspondents say the two countries are strengthening their ties as the US and its Nato allies prepare to leave Afghanistan in 2014.
Apart from help in building up Afghan security forces, India has pledged or spent some $2bn worth of aid over the last decade to build roads, power stations and even the Afghan parliament.
India has been also rewarded with rights to mine Afghanistan's prime iron ore reserves - state-owned companies are leading the way so far.
Former foreign minister SM Krishna has said that Indian business interests need to overcome "the anxiety of withdrawal, uncertainty, instability and foreign interference" to invest in Afghanistan.