French 'conman' charged for sale of fake art by MF Husain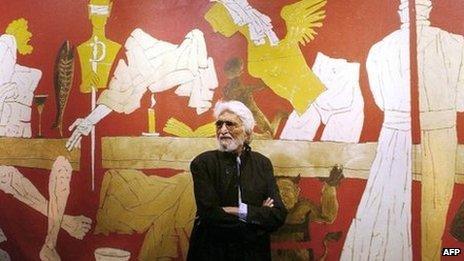 A French man has been charged with selling forged paintings by the controversial Indian artist MF Husain, reports France's daily Le Parisien.
The 32-year-old was arrested last month after a Paris art dealer claimed he had bought two of the fakes for more than 100,000 euros ($130,000; £79,795).
MF Husain died at the age of 95 in June 2011 after years of self-imposed exile.
The works of the maverick painter known as the "Picasso of India" have been sold for millions of dollars.
The man was based in the Saint-Ouen quarter in the north of Paris and police believe he took advantage of Husain's advanced age to get him to sign paintings done by others, reports Le Parisien.
Police suspect he had been selling the Husain fakes around the world since 2004 and has flooded the art market with the forged paintings.
The art dealer who bought the paintings from him became suspicious when auction houses Sotheby's and Christie's questioned their authenticity.
In 2008 one of Husain's paintings influenced by the Hindu epic The Mahabharata fetched $1.6m (£999,000) in an auction at Christie's in London.
Husain, who often walked barefoot, angered hardline Hindus with his paintings of nude Hindu goddesses.
He left India in 2006 after his home was attacked and death threats were made against him. He took up Qatari nationality in 2010.
Mr Husain had also made two Bollywood films, although both failed at the box office.