Sonia Gandhi: India facing difficult challenges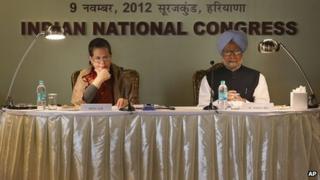 India's Congress party chief Sonia Gandhi has defended the performance of the government despite "facing very difficult challenges".
Ms Gandhi made the remarks at a meeting of top party leaders in the capital, Delhi.
The meeting discussed the government's performance and economic reforms.
It came days after a mass rally in Delhi aimed at galvanising support for reforms, which include opening up the retail trade to foreign companies.
Support for Congress in its second term has been hit by economic concerns and corruption cases.
Last month, PM Manmohan Singh inducted 22 new ministers into the government in a major reshuffle, a move seen as an attempt to get younger politicians into the Congress party-led government ahead of general elections in 2014.
Corruption cases
Correspondents say Friday's meeting, attended by 70 leaders, was another attempt to revitalise the party and government ahead of the polls.
Apart from PM Manmohan Singh, Ms Gandhi and Congress general secretary, Rahul Gandhi, 23 cabinet ministers and 12 junior ministers attended the conclave.
Party leaders defended the recent wave of controversial economic reforms, which include allowing the likes of Walmart and Tesco to enter the Indian market, and slashing subsidies on cooking gas.
"The challenge before us is to tell the people about the reasons which forced us to take the decisions," Ms Gandhi said.
She also blamed opposition parties for "attempting to grab power at any cost, notwithstanding the fact that their greed could weaken democracy, equality, sovereignty and secular values".
The government has been battling allegations of corruption and inaction.
The corruption cases include allegations involving the hosting of the 2010 Commonwealth Games, mobile phone licensing, coalfield allocations, embezzlement of charity funds and the actions of Mrs Gandhi's son-in-law Robert Vadra in real estate deals.