Indian tribunal orders 'Norway row children' back to their mother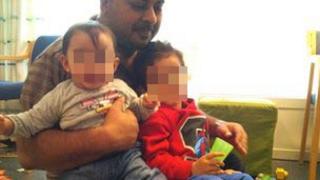 Two children at the centre of a custody row between Norway and India have been ordered by a West Bengal tribunal to be returned to their mother.
The children were removed from their parents in May 2011 when they lived in Norway, where officials said they were not being looked after properly.
After a protracted row, Norway allowed the children back to India in April 2012 under their paternal uncle's care.
The Indian tribunal said that he had failed in his duties towards them.
The move by the Norwegian authorities to take the children into care caused a diplomatic row between Norway and India.
The parents of four-year-old Abhigyan and 23-month-old Aishwaryia argued that "cultural differences" were behind the decision to take the children away - the parents slept with them and fed them by hand rather than use knives and forks.
The parents subsequently separated and the mother moved back to India - where she filed a petition seeking custody.
The Child Welfare Committee in Burdwan, West Bengal, said that "with expert assistance it had evaluated the children, their condition in the foster home and the capability of their mother to care for them".
"We have found the mother to be fit to take care of the children and their foster carer to have failed in his duties towards them," it said.
"The Norwegian orders under which the children were released to the foster care of their 26-year-old bachelor uncle do not justify an absolute or permanent separation of the children from either of their parents."
It ruled that the children were not at all at risk from their mother.
Correspondents say it is not clear when the court's order for the children to be handed over will be implemented.
The case received extensive media attention in India and provoked public anger, with the Indian government saying that the children should be allowed to live in their own cultural and linguistic environment.