Outcry over India journalist arrest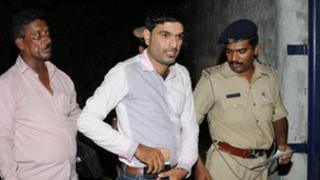 Activists in India have demanded the release of a television reporter who had taken a video of Hindu activists attacking girls for partying with boys in the southern state of Karnataka.
Naveen Soorinje was arrested on late Wednesday night and charged with abetting the July attack in Mangalore.
The incident was criticised as one of the many incidents of "moral policing" that have marred the state's image.
Media organisations have called the arrest an assault on press freedom.
Mr Soorinje has alleged that he is being targeted "for exposing the failures of the local administration in dealing with cases of moral policing and attacks on minority communities by Hindu hardline groups".
The state is ruled by the Hindu nationalist Bharatiya Janata Party (BJP).
"Police have no business to arrest him. He was just discharging his professional duties. The arrest sends bad signals on how the local police are mixed up with right-wing organisations," said M Saldhana, a retired high court judge and human rights activist in the state capital, Bangalore.
Groups representing journalists have submitted a memorandum to the state home minister, R Ashok, calling for Mr Soorinje'e release and strict action against police officers who arrested the journalist.
Police, however, deny that they are targeting the reporter.
"We are only complying with court orders," Mangalore city police commissioner Manish Kharbikar told the BBC.
He said 29 people had been arrested for the attack and the reporter had been named in the chargesheet filed in connection with the attack.
Television footage, taken by Mr Soorinje, showed men chasing girls and boys and beating them up. Some of the attackers were seen groping a traumatised girl.
The accused had defended the attack, saying it was a rave party, but police said the students were just having a birthday party and no drugs were found on them.
In a similar incident in Mangalore in 2009, a Hindu hardline group, the Sri Ram Sena, had attacked women in a city pub saying it was against Indian culture for women to go pubbing.