Delhi smog blamed on burning straw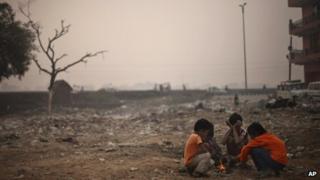 Farmers who burn straw are being blamed by officials for causing heavy smog over the Indian capital, Delhi, and sending air pollution way above recommended levels.
The haze was caused by fires in neighbouring states and not due to pollution by vehicles, Chief Minister Sheila Dikshit said.
Environmental groups maintain pollution by vehicles is the main cause.
Winter smogs are common in Delhi, but this year's haze has been severe.
The Delhi-based independent environmental watchdog, the Centre for Science and Environment (CSE), said pollution levels in the city had "gone up manifold".
'Deliberately done'
Ms Dikshit told the Press Trust of India the government was concerned over the "unprecedented smog cover".
But, she said, satellite pictures showed "the haze has not been formed because of vehicular pollution in Delhi".
She said experts had found that the "burning of paddy straw in Uttar Pradesh, Punjab and Haryana" was to blame.
"It is as if it is deliberately being done to choke Delhi," Ms Dikshit told The Hindu newspaper.
Officials say slow wind speeds, low temperatures and high humidity are exacerbating the smog.
Police had been asked to launch a special drive for checking pollution from vehicles entering the capital.
A report by the CSE warned that the "high and extreme toxic" pollution levels in Delhi were a "clear health hazard" and that there was already evidence of residents suffering from severe respiratory ailments.
The organisation blamed the rise in pollution mainly on a huge increase in the number of vehicles in the city, particularly diesel-driven cars.
Delhi's government introduced greener fuels for public transport in 2000 to control air pollution but the levels have continued to rise.
"Delhi has already exhausted all soft options to tackle pollution. The city needs emergency-level action to reduce the growing pollution in its air," the CSE said.