India Telangana: Security high after student's suicide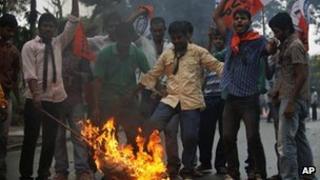 Security has been tightened in the Telangana region of India's Andhra Pradesh state after a college student hanged himself in protest against the delay in creating a separate state.
Santosh, 20, killed himself on the Osmania University campus in Hyderabad city early Wednesday, say police.
In a suicide note, he blamed the government in Delhi for its lack of decision on forming a Telangana state.
There have been violent protests across the state for and against the proposal.
Tensions are high as pro-Telangana student organisations call for a strike in all educational institutions in the region on Wednesday.
Deep divisions
Some pro-Telangana organisations claim that more than 900 students and other people have killed themselves across the region over the last six years. But this is not an officially confirmed figure.
There have been five incidents of suicide at the same Osmania University campus since 2009 and all the victims said they were laying down their lives for a Telangana state.
People in Telangana have been waging their campaign for 50 years. They say that they have been neglected by successive governments.
Opponents of the move are unhappy that Hyderabad, home to many major information technology and pharmaceutical companies, could become Telangana's new capital.
The final decision on a new state lies with the Indian parliament. But the state assembly must also pass a resolution approving its creation.
Deep divisions have emerged over the Telangana issue in the past three years.
In December 2009, India's Congress party-led government promised that the new state would be formed, but later said more talks were needed.