Nitin Gadkari to remain India BJP chief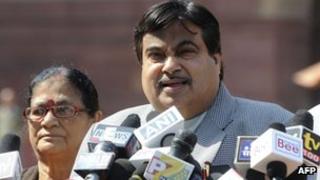 India's main opposition Bharatiya Janata Party (BJP) has said that Nitin Gadkari will remain the party chief after a senior BJP MP asked him to step down following corruption charges.
There was "no legal or moral wrongdoing" by him, the party said after a meeting of its top leaders.
Campaigners recently accused Mr Gadkari of involvement in a massive corruption scandal.
Mr Gadkari has denied the allegations and said that he was ready for a probe.
Mr Gadkari was appointed the party leader for three years in December 2009 and the BJP national council recently announced that he would be given a second term.
But on Tuesday, MP Ram Jethmalani said Mr Gadkari should not be given another term as the party president since it would harm the BJP's chances in the 2014 general elections.
He said several other senior party leaders shared his view.
But a meeting of the party's core committee late on Tuesday evening, it was decided that Mr Gadkari would continue as the party boss.
In a statement, the BJP said that an internal inquiry had cleared Mr Gadkari and showed that he had not committed any wrongdoing.
"The party has full faith in the leadership of Mr Gadkari and appeals to all party leaders not to air their views in public," the statement said.
Mr Gadkari has been criticised in recent weeks after allegations that a company run by him had been "dubiously funded".
Anti-corruption campaigners have also accused him of involvement in "a massive irrigation scam running into millions of dollars" and land-grabbing.
Correspondents say many within the BJP feel that the allegations against the party chief have blunted their criticism of the governing Congress party which has been mired in several corruption scandals recently.