Ram Jethmalani: India BJP chief Nitin Gadkari must quit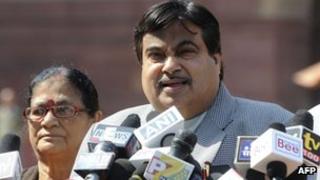 A senior member of India's main opposition Bharatiya Janata Party (BJP) has called on the party chief, Nitin Gadkari, to step down following corruption allegations against him.
MP Ram Jethmalani said several other senior party leaders shared his view.
Campaigners recently accused Mr Gadkari of involvement in a massive corruption scandal.
Mr Gadkari has denied the allegations against him and said that he was ready for an investigation.
Mr Gadkari was appointed the party leader for three years in December 2009 and the BJP national council recently announced that he would be given a second term.
"I am in touch with Jaswant Singh, Yashwant Sinha and Shatrughan Sinha [all MPs from the Lok Sabha - lower house of India's parliament]. We seem to be on the same wave length," Mr Jethmalani told reporters on Tuesday.
"We are clearly of the opinion that resignation of the party president is imminently called for," he said.
Mr Jethmalani said Mr Gadkari should not be given another term as the party president since it would harm the BJP's chances in the 2014 general elections.
He said he had sent a letter to Mr Gadkari and senior party leader LK Advani explaining his position, but refused to divulge the contents of the letter.
Mr Gadkari has been criticised in recent weeks after allegations that a company run by him had been "dubiously funded".
Anti-corruption campaigners have also accused him of involvement in "a massive irrigation scam running into millions of dollars" and land-grabbing.
Correspondents say many within the BJP feel that the allegations against the party chief have blunted their criticism of the governing Congress party which has been mired in several corruption scandals recently.
Mr Jethmalani's son, Mahesh, also quit the BJP national executive on Monday saying he could not "be associated with it as long as Mr Gadkari remains the party president".