India's Congress holds mass rally to defend reforms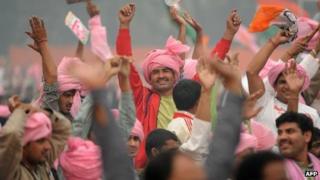 India's ruling Congress party has held a mass rally in Delhi to shore up support and defend controversial economic reforms.
Tens of thousands gathered to hear party head Sonia Gandhi, Prime Minister Manmohan Singh and possible future PM Rahul Gandhi speak.
Mr Singh said those opposing moves to open the retail sector to foreign firms were "misleading the people".
Support for Congress has been hit by economic concerns and corruption cases.
'Corruption a cancer'
The BBC's Sanjoy Majumder, in Delhi, says the rally was a massive show of strength by Congress as it attempts to shore up support ahead of elections in 2014.
Mr Singh defended the recent wave of controversial economic reforms, which include allowing the likes of Walmart and Tesco to enter the Indian market.
He said the move would benefit everyone and that it was wrong to claim farmers would suffer when, in fact, the reforms would create more jobs.
Mrs Gandhi delivered a fiery speech, addressing corruption allegations levelled against her party and its allies over the past two years.
"I admit, corruption is a cancer, it is a disease," she said. "We will continue to fight this disease."
But she added: "Those who dig a pit for others to fall should know that a well is waiting for them to fall into."
The corruption cases include allegations involving the hosting of the 2010 Commonwealth Games, mobile phone licensing, coalfield allocations, embezzlement of charity funds and the actions of Mrs Gandhi's son-in-law Robert Vadra in real estate deals.
Our correspondent says that all eyes at the rally were on Rahul Gandhi, who is widely seen as Congress's candidate for prime minister in 2014.
He stressed the party's commitment to the poor and promised tough measures to tackle corruption and land reform.