BBC Hindi launches new TV show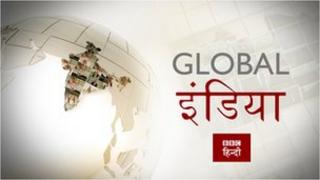 A new BBC Hindi TV show on global affairs will begin broadcasting on India's ETV network from Friday evening.
Global India, a weekly 30-minute magazine style show, will be broadcast on five channels of the ETV network every Friday.
There will be repeat broadcasts of the show over the weekend, a statement issued by BBC said.
BBC Hindi has a presence in radio, online and on mobile phones in India.
The Global India show will be presented by Rupa Jha, a senior journalist with BBC Hindi, and showcase "the best of the BBC journalism from across the world, focusing on news and developments that resonate with the Indian audience", the statement said.
The show aims to "connect with millions of Hindi-speaking audiences through the expansive reach of ETV channels", it added.
"This is a great development for the BBC in India, showing our commitment to our Hindi-speaking audiences. With this expansion on television, BBC Hindi builds on the strength of the BBC as a news brand in India," BBC World Service Head of Journalism Nikki Clarke said.
"The editorial thrust of Global India reflects the strong interest in stories from around the world that are important for India and are brought alive by the BBC's world-renowned newsgathering operation.''
A spokesperson for the ETV network said the show would add variety to the content offered by the network and "also give our viewers an opportunity to meet Indians spread around the world".
Global India will be broadcast every Friday at 2000 on ETV Bihar/Jharkhand and ETV Uttar Pradesh/Uttrakhand; and at 1800 on ETV Rajasthan, ETV Madhya Pradesh/Chhattisgarh and ETV Urdu.
The show will be repeated on Saturdays at 2000 on ETV Urdu, and at 2130 on all the other channels.
It will be repeated on Sundays at 1130 in Uttar Pradesh, Madhya Pradesh and Bihar; at 0930 in Rajasthan and at 1300 on ETV Urdu.