India Azim Premji call to protest against Bangalore rubbish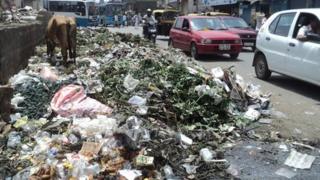 Indian software tycoon Azim Premji has called on residents of Bangalore to protest against the failure to clean up piles of garbage in the city.
The garbage has been piling up over the past two months after villagers from nearby areas refused to allow their land to be used as a dumping ground.
Mr Premji said the situation was a health hazard to the city's residents.
Bangalore in Karnataka state is home to hundreds of multinational firms like IBM, Microsoft and Hewlett Packard.
The city is known as India's "Silicon Valley" but in recent years, its image has been dented by poor roads, traffic jams and power cuts.
It has more recently taken a further beating with the garbage crisis.
"Three-quarters of the machinery in place for garbage clearance and disposal, don't function," said Mr Premji.
"In many areas, the dumps are extending into the middle of the streets. It ruins yours and your parents' health. Citizens should stand together and agitate against these civic issues."
The city's nine million residents create 4.5m kg (10m lb) of daily waste.
Karnataka Chief Minister Jagdish Shettar has acknowledged the extent of the problem and the need to tackle it.
"Bangalore is a global city and whatever happens here grabs space in international media," he said.
"The government is in control of the problem and taken all measures to clear the accumulated garbage in the city."
But over the last two months, waste has been continuing to gather in both the central and outlying areas of Bangalore, with the civic authorities struggling to cope with the mess.
Another top software leader, Mohandas Pai has asked the government to hold an emergency meeting and form a special task force to address the issue.
The problem arose when villagers blocked trucks carrying waste from Bangalore, saying they would not allow dumping in their backyard.
Earlier the state pollution board ordered the closure of a dump yard at Mavalipura on the outskirts of Bangalore because it said waste was not being properly disposed of.